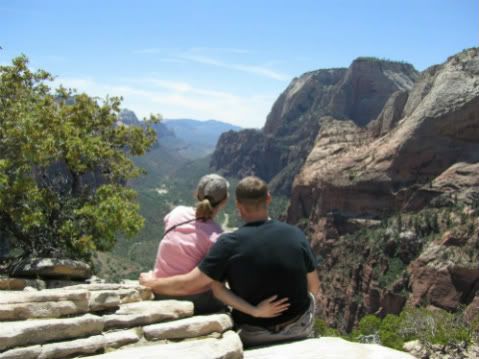 Life is sweet. There are some stretches of the journey when you just wonder how you managed to get to this point, with all of its glorious vistas and unmeasurable joys. "We are going to be the cutest old couple, with little witty jabs here and there." C said as we ascended the 75 degree four mile incline. There are few things that C says make me completely melt inside with happiness, but this one did. We laughed our way to the top of some of the most difficult climbs in Zions National Park, me somewhat breathless, but glad I had made the effort.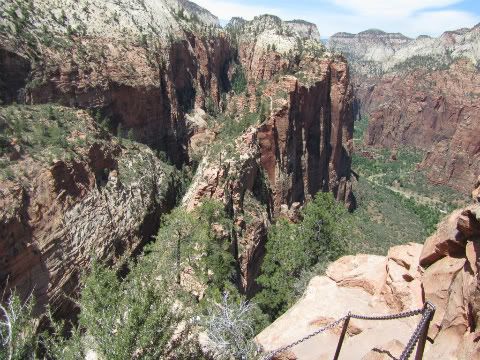 The first time we climbed Angel's Landing years ago, C looked out over the blade of stone we would bridge to the other side, clung tightly to me and said, "Don't fall! I don't want to lose you!" I think I laughed, not because I didn't appreciate his tenderness, but because his fear of heights suddenly revealed his over-protective side. My brazen fearlessness of heights will no doubt be answered with me someday having a child just like me, scrambling on sandstone at age five, and climbing anything within sight long before that.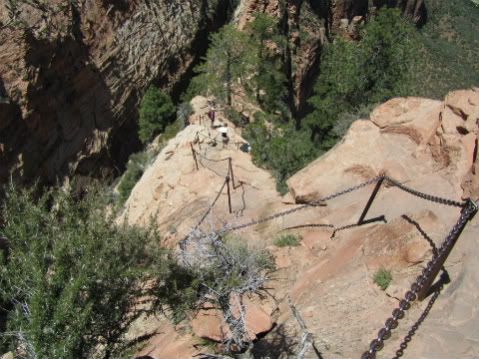 Since that first Angel's Landing ascent, C has climbed it several times, and has courageously stared his fear of heights in the eye on countless occasions. "But I wouldn't have done all of those things if it wasn't for you!" He told me on this trip. Once again, I had to gather my puddle-like self off of the ground. Wow. When did he get so good at turning me into mush?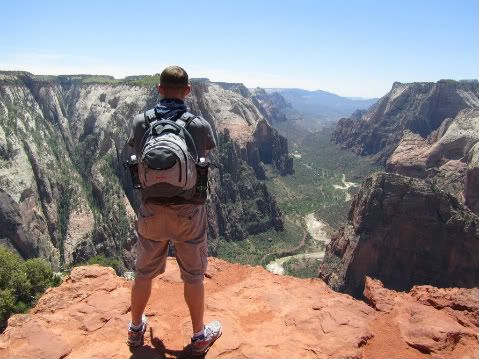 At the top of one climb, we enjoyed peanut butter and jelly sandwiches on wheat that I had made before we left, and on the next climb we dined on Breton wheat crackers with crisp Braeburn apples and Jamaican No Woman cheese. What is it about long, exhausting climbs that makes you think that meal at the top is the best food you have eaten in your entire life?
I wish I could remember all of the funny things C said and did along the way. He made fun of my need to stay well abreast of those dorky hikers who use ski poles on cement trails. CLANK, CLANK, CLANK, echoing through wind-sculpted canyons of pink and white sandstone. Who wants to hear that in a breathtaking place like Zions? Could that kind of frustration be defined as trail rage, or just a purist mentality?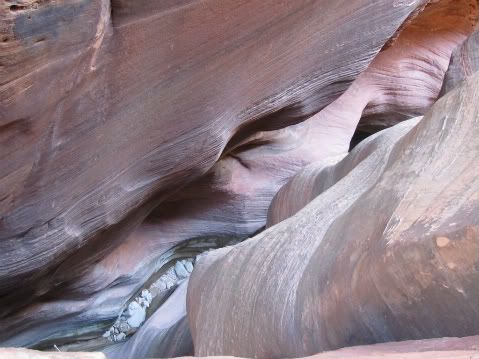 My big toes (clad in my cute minimalist Merrells shoes) started to blister near the end of Observation Point (8 miles, ~75% grade), and C was my hero. I was so worn out, but he kept me going despite my kamikaze attempts to run down the mountain the rest of the way just to make the last few switchbacks go by faster.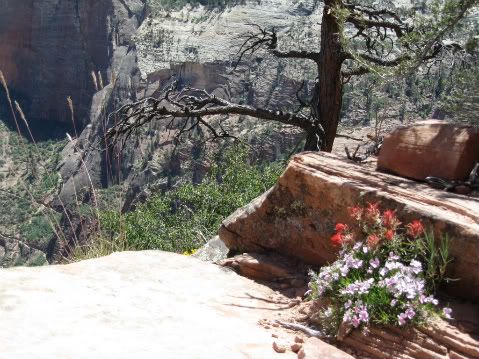 I was so impressed that with such a large number of visitors, beautiful flowers and cacti grew around or even right on the trails! My deepest admiration to the many respectful visitors from around the world who enjoyed the park without leaving their mark behind! Okay, that respect was then challenged on our final hike, the upper Emerald Pools...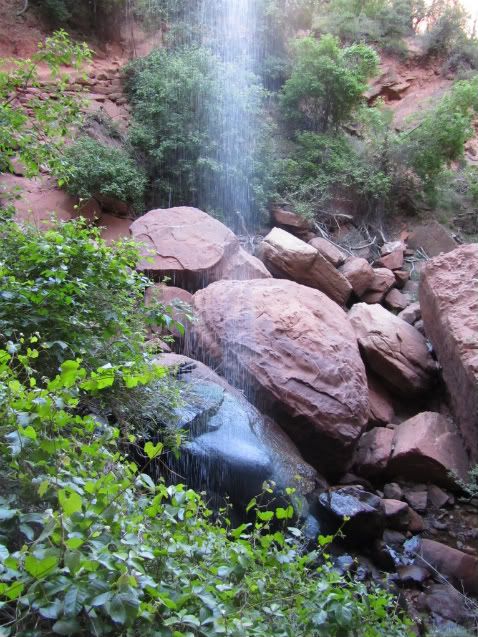 Quiz:
Which of the following did C&A observe on their way to the upper Emerald Pools?
A. A little boy proudly showing off his kidnapped blue-belly lizard, oblivious to the $150.00 fine attached to it.
B. A little girl pouting because her grandma did not appreciate the illegal bouquet of wildflowers she had picked for her.
C. A mature gentle(?) man who crossed the forbidden barrier at middle Emerald Pool.
D. A troop of little girls with mud streaked on their faces like warpaint who proudly declared, "We're CANADIANS!!!"
E. A man peeing in the bushes just before a group of kiddies rounded the corner.
F. A Park Ranger on the trail who may or may not have encountered the little boy with the lizard.
G. A woman stumbling around on the trail as if she'd had WAY too much to drink.
H. A woman walking the trails with her unleashed dog who then fibbed to the shuttle driver to get the dog on the shuttle bus.
I. A little boy proudly declaring that there were frogs that sounded like goats just up ahead.
J. A bunch of frogs that really DID sound like goats.
K. C&A saw all of the above, and every item listed above C&A saw along the way was done by Americans, minus the boy who informed them about the goat-frogs. What is it about those Americans?
I will leave you with this last memento: